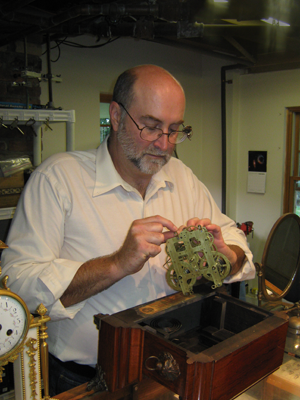 Clock and Watch Repair
The art of the clockmaker is not gone. Jack Betterly apprenticed in clock and pocketwatch repair and is certified by the State of New York. Jack is nationally known and has repaired timepieces from all over the country. No two have been exactly alike.

Each clock or pocketwatch is a new puzzle, and the diagnostic process is as difficult, if not more difficult, than making the adjustment or repair. Jack will make house calls to diagnose or repair on-site, for a nominal fee. Additionally, timepieces can be shipped or dropped off at his studio by appointment.

"One of the most satisfying things I do is to take something old and breathe new life into it. It could be an old pocket watch that doesnít look like it can be saved, or maybe itís an old clock that hasnít worked in 100 years. ... customers tell me it is hard to describe the feeling they have, laying in bed at night and listening to the same ticking sound that their grandparants listened to."