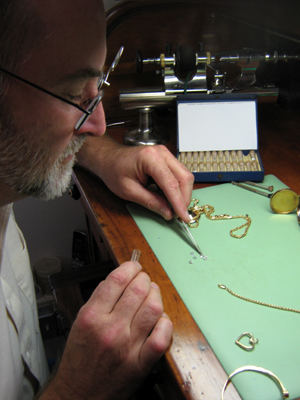 Jewelery Repair
Repair usually consists of re-sizing rings, soldering gold chains, re-setting gems that have fallen out, and the like. Sometimes a lost gem will need replacing, and finding a good match can be a challenge. The Brunswick Fine Jeweler has access to suppliers with literally thousands of each size stone. If that fails, Jack can custom cut one in his lapidary shop.

Restringing pearls (with or without knots) is common, as is written appraisals for insurance.

Although the Brunswick Fine Jeweler is happy to buy your gold at a good price, Jack has the skills to rescue the value of the craftsmanship in your jewelry.
"Every cash-for-gold sign I see makes me cringe thinking about the lost treasures and legacies that are melted down for 30 cents on the dollar, not even of their value as jewelery but as just commodity metal."